Jinya Dianhong Golden Tips Bud Only from Ancient Tea Trees
$2.90 – $52.90
Free shipping on orders over $59!
Fast Air Delivery
15 Days Refund
Secure Payments
Fengqing Yunnan Province, China

Above 1700 meters

From March to November 2022

Golden cortex, fine hairs

Floral

Brassy golden orange

Gentle, sweet

Store in airtight, opaque packaging; in cool, dry place

18 months
Brief
Jinya Dianhong is the high end Dianhong black tea. Compares to other Dianhong, Jinya Dianhong contains only golden tips, which are usually covered in fine hairs. It produces a brew that is brassy golden orange in color with a sweet, gentle aroma and no astringency. The leaves are reddish brown after being brewed.
Origin
Jinya Dianhong is a type of relatively high-end, gourmet Chinese black tea, it mainly grows in Yunnan province. Teas grown in Yunnan prior to the Han dynasty (206 BC – 220 CE) were typically produced in a compressed form similar to modern Pu'er tea. Dianhong is a relatively new product from Yunnan that began production in the early 20th century. The word "dian" is the short name for the Yunnan region while "hong" means "red ".
Culture and history
Jinya Dianhong was not known to the public until 1939, in the autumn of 1937, two businessmen start noticing there's a fantastic tea in Yunnan, later in 1939, Jinya Dianhong was first mass-produced, which is the signal that it entered the market. Soon, it has a global reputation, it sold quite well in the former Soviet Union, Eastern Europe and London.
Health benefits
It has a stimulating effect in humans primarily due to its caffeine content. According to an article published in the American Journal of Clinical Nutrition, long-term consumption of black tea lowers systolic and diastolic blood pressures (about 1–2 mm Hg).
Brewing Method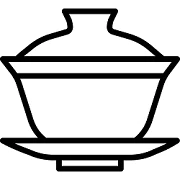 Chinese Gongfu Tea Method
90°C/195°F
4g
5 seconds
+5 seconds
10

Western Cup Method
90°C/195°F
0.6g
180 seconds
+60 seconds
3