Brick For You – Raw Pu-erh
100-year-old Ancient Tree, Flower and Honey Aroma
$16.90 – $128.90
Free shipping on orders over $59!
Fast Air Delivery
15 Days Refund
Secure Payments
Mengku Town, Shuangjiang County, Lincang City, Yunnan Province, China

Yunnan Large Leaf Species, 100-year-old ancient tree

1,800 meters

Spring 2020, produced on July 6th, 2020

compressed into brick shape, like a chocolate. Tea leaves are complete, fat and strong.

Honey and flower aroma.

Orange and golden; clear and bright.

Honey fragrance, tweet, mellow, aftertaste fills the mouth, lasting for long time.

Thick, strong and rigid with flexibility.

Store in airtight, opaque packaging; in cool, dry place

The longer the better.
Origin
A brick is a friend who you can trust and reply on. Brick For You may be your friend whenever you need a peaceful mind. That's why this tea is made into a shape of brick. The liquor is clear and bright, with a strong aroma of wild honey. The taste has a floral aroma, very smooth, sweet and delicious. Touch on throat is cool and sweet, and it's lasting for a long while, which makes people energetic.
Origin
Brick For You is from Lincang, Yunnan, China. This area's yearly average temperature is 17.5 °C. Sunshine is sufficient. The climate is quite proper for tea growth. Besides, this area is covered by virgin forest and far away from human pollution. The nature and climate make the tea in premium quality.
Processing
The tea was made according to Raw Pu-erh workmanship. Tea was pressed into a brick shape, which is very convenient to take and drink. However, pressing for the shape does not break the tea's original shape – every tea leaf is a complete whole leaf. The material is the Yunnan large leaf cultivar, which is picked from 100-year-old ancient tea trees.
Brewing Method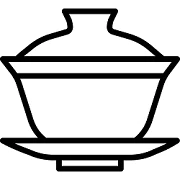 Chinese Gongfu Tea Method
95°C/203°F
7g
5 seconds
+5 seconds
12

Western Cup Method
95°C/203°F
0.9g
120 seconds
+30 seconds
5