Modest Gentleman – Anji Bai Cha
Top level Chinese green tea, beloved by the ancient emperor
$4.10 – $76.90
Free shipping on orders over $59!
Fast Air Delivery
15 Days Refund
Secure Payments
Ximu Village, Tianzihu Town, Anji County, Huzhou City, Zhejiang Province, China

Anji White Tea cultivar with pale color

850 meters

28 March 2022

1 bud 1 leaf or 2 leaves

Plump, pale, like pine needles

Vegetal

Pale, lemon-yellow

Asparagus, fruity, sweetness, greenness

Fertile, complete and beautiful

Store in airtight, opaque packaging; in cool, dry place

18 months
Brief
We use this name Modest Gentleman, to describe this tea, because no matter the outlook or the smile, or the taste, even the wet leaves, we couldn't find a better word to make it clearer and more sense for you. It is like a modest gentleman, tender, gentle, sweet, refreshing and elegant.
Anji Bai Cha, or in English, Anji White Tea belongs to the type of green tea although it has a 'white' name. The unprocessed tea leaves are quite white in color. However, it is processed according to the green tea standard as this is the best way to make it.
Origin
The tea is from Ximu Village, Tianzihu Town, Anji County of Zhejiang Province, where the Anji Bai Cha was originated. It it about 100 kilometers away from Hangzhou, the capital city of Zhejiang. It's located in the mountain at elevation above 800 meters. The climate and environment here is very proper for tea trees' growth. Tea gardens in this area are maintained and managed in very fine level.
The picking season is very short, around 30 days in early spring as once the temperature increases, the leaves would start to turn green.
History & Culture
There was a legend recorded in a 900-year-old Chinese book called "Da Guan Cha Lun" (大观茶论), written by the emperor Huizong of Song Dynasty, who was a tea enthusiast. It was about a tea plant with jade white leaves that he loved the most. It remained a legend until 1980s, when a single white tea bush (now known as the Ancestor of Bai Cha) was found in An Ji County, and experts believe this was the tea plant that was mentioned in the book.
It was soon cultivated for commercial purposes – All Anji Bai Cha should be made from plants that were propagated from these ancient mother trees.
Brewing Method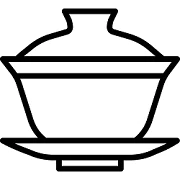 Chinese Gongfu Tea Method
85°C/185°F
3g
20 seconds
+5 seconds
5

Western Cup Method
85°C/185°F
0.5g
180 seconds
+60 seconds
2