Bi Luo Chun – Enjoy Jade Snail Dancing in Glass and Refreshing Taste
High quality, well-known, with rich culture and history
$2.90 – $48.90
Free shipping on orders over $59!
Fast Air Delivery
15 Days Refund
Secure Payments
Dongting Mt, Suzhou City, Jiangsu Province, China

260 meters

Spring 2022

1 bud 1 leaves

None

Snail shape covered with white fuzz

Fruit fragrance

Pale to light yellow

Sweet, natural, lingering

Complete and beautiful, like a dancer in glass ware

Store in airtight, opaque packaging; in cool, dry place

18 months
Name & Culture
We name it Jade Snail, as its beautiful green color and elegant shape. Its official name is Bi Luo Chun (碧螺春) – literally translated as green snail in spring.
However, before this tea became well-known and popular in China, it used to have a very illiterate name, called Fearful Fragrance (吓煞人香). That was based on one of its particular characters – strong and fascinating aroma.
In the Qing Dynasty, Emperor Kangxi(1654 – 1722) drank this tea and liked it very much. But he didn't like the original name thus renamed it as Bi Luo Chun.
Origin
Bi Luo Chun is produced in Dongting mountain. On the surface of Taihu Lake, the water vapor is rising, the fog is thick, the air is moist, the soil is acidic, and the texture is loose. It is very suitable for the growth of tea trees. Due to the interplanting of tea trees and fruit trees, Bi Luo Chun tea has a special flower fragrance.
Dongting Mt is now a protected area. Only the leaves picked within Dongting West and Dongting East areas can be considered as originated and authentic Bi Luo Chun tea.
Manufacture
Pick

Bi Luo Chun picking has three characteristics: picking early, picking tender, and third, picking clean. Every year, it is mined before and after the spring equinox and ends before and after Gu Yu. The quality of pre Qingming Tea (Ming Qian) harvested from the spring equinox to Qingming is the most precious.

High temperature frying

In the pan or inclined pan, when the pot temperature is 190 ~ 200 ° C, add about fresh leaves, mainly shaking, stir fry with both hands, lasting for 3 ~ 5 minutes.

Rolling

The pot temperature is 70 ~ 75 ° C, and the three methods of shaking, frying and kneading are used alternately. With the reduction of tea moisture, the strips are gradually formed.

Rub the ball and show the hair

It is the key process of forming a curly shape like a snail and a full coat of antler. The pot temperature is 50 ~ 60 ° C. while frying, vigorously knead all the tea leaves into several small groups with both hands, shake them from time to time and repeat them for many times until the strip curls and the antler is exposed. When it is about 80% dry, enter the drying process. It takes 13 ~ 15 minutes.

Fixing

The method of light kneading and light frying is adopted to achieve the purpose of fixing the shape, continuing to show the hair and evaporating the water. When it is about 90% dry, start the pot, spread the tea on the mulberry paper, put the paper on the top of the pot and bake until it is dry.

Finishing

Tea is not separated from the pot by hand, and tea is not separated from the pot. It is fried in kneading. There is kneading in frying, and the combination of frying and kneading. It is ready to serve after continuous operation
Brewing Method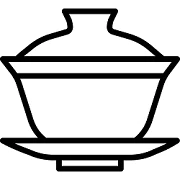 Chinese Gongfu Tea Method
85°C/185°F
3.5g
15 seconds
+5 seconds
6

Western Cup Method
85°C/185°F
0.6g
180 seconds
+60 seconds
2