Sale!
Mountain Snowmelt – Sun-dried Dianhong Mild Fragrance with Aftertaste
300-year-old ancient tree, 2680 meters altitude
$3.90 – $79.90
Free shipping on orders over $59!
Fast Air Delivery
15 Days Refund
Secure Payments
Mengku Town, Shuangjiang County, Lincang City, Yunnan Province, China

Yunnan Large Leaf Specy, 300-year-old ancient tree (Gushu)

2,680 meters

Spring, 2021

Full

1 Bud with young leaves

Complete, tight and neat.

High aroma of honey and orchid.

Crystal clear amber color.

Viscous, sweet and smooth, with fragrance on the teeth and cheeks.

Fertile, flexible and complete.

Store in airtight, opaque packaging; in cool, dry place

36 months
Brief
This is a particular high end and rare black tea in China. It's from the 200-year-old antient tea trees on 2680 meter altitude of Snow Mountain in the virgin forest of Yunnan. The manufacture is different from ordinary Dianhong process. It is dried by sunshine in stead of baking. This gives the tea more natural taste and resistance to brewing. The aroma is special and the taste is sweet with long lasting aftertaste.
Origin
Mountain Snowmelt is originally from Daxueshan Mountain, Mongku Town, Yunnan Province of China. In the inaccessible virgin forests, this is the wild ancient tea plant community with the highest altitude and the greatest density that have been found so far. According to experts, this is one of the centers of origin of the tea plants.
The surrounding ecological environment is excellent. The temperature and humidity are suitable. The terrain is high and steep. The temperature difference between day and night is large.
Material Selection
The material used for the mountain Snowmelt is the ancient tea trees that are more than 200 years old, located in the area of ​​2680 meters above sea level in the Snow Mountain (Daxueshan). The tea trees grow slowly, but the assimilation products are abundant. So the tea has good quality, rich content and good resistance to brewing.
Manufacture
Although Mountain Snowmelt is a black tea, it uses a "sun-dried" process that is different from ordinary black tea.

The procedure is withering, rolling, fermentation (focusing on light oxygen fermentation), drying (sunlight drying). There is no high-temperature drying and baking as the ordinary process.

Because there is no excessive baking and aroma lifting, the sun-dried process makes Mountain Snowmelt not only resistant to brewing, but also resistant to storage. Even, for a longer storage period, it will have better taste.
Brewing Method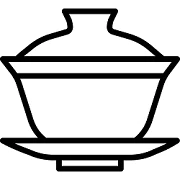 Chinese Gongfu Tea Method
90°C/195°F
4g
5 seconds
+5 seconds
10

Western Cup Method
90°C/195°F
0.6g
180 seconds
+60 seconds
3