White Peony (Bai Mudan)
Vanilla taste, floral high notes
$3.90 – $72.90
Free shipping on orders over $59!
Fast Air Delivery
15 Days Refund
Secure Payments
Fuding City, Fujian Province, China

Fuing Da Bai Cultivar

600 meters

Spring, 2022

Spring leaves

Silver bud with fuzz, tender look

Meadow and floral

Light yellow to pale

Sweet and refreshing, full of tender pekoe feeling,

Store in airtight, opaque packaging; in cool, dry place

The longer the letter.
Brief
White Peony or Bai Mudan is made from plucks of one bud two leaves. It has fuller flavor and greater potency. The typical taste of Bai Mudan is a result of both the processing and the tea plant cultivars employed in the production. The brew is a very pale green or golden color. The flavor is fruity and it is stronger than Silver Needle yet not as strong as Shou Mei.
Origin
Fuding City is located in the northeast of Fujian Province, on the coast of the East China Sea at the junction of Fujian and Zhejiang. Most of area is 500-800 meters or even more than 1000 meters above sea level.The climate conditions belong to the mid subtropical monsoon climate area, with obvious marine climate characteristics. The soil is suitable for the growth of tea trees.
Manufacture
The family of tea cultivars used in producing Bai Mudan are the 'Fu Ding Dai Bai' varieties (meaning 'large White' in English).

It is a slightly oxidized tea. The plucks are sun-withered for an extended period of time and then piled briefly for oxidation, during which enzymes of the tea leaves interact with other constituents to form new materials that result in the final taste and aromatic character of the tea. Depending on the weather, conditions of the pluck and the taste style requirements of the finished products, the sunning may last between 1 and 3 days and the piling between one half and 3 hours.

Although the processing steps are simpler than those for other teas, the long process and the variable factors during which are key cost factors. For example, a sudden rainstorm during the lengthy withering can be destructive.
History and Culture
The book of tea written by Lu Yu of the Tang Dynasty quoted the book of Yongjia pictures of the Sui Dynasty: "there is a white tea mountain three hundred kilometers east of Yongjia County". According to tea experts, white tea mountain is Taimu mountain. It shows that white tea appeared as early as the Sui and Tang Dynasties.

In 2009, during the excavation of the tomb of the LV family in the Song Dynasty, archaeologists found more than 30 top-grade white tea buds in the copper slag bucket. According to experts, these tea are from more than 1000 years ago, originated from Fuding, Fujian.
Brewing Method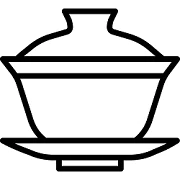 Chinese Gongfu Tea Method
90°C/195°F
4g
5 seconds
+5 seconds
8

Western Cup Method
90°C/195°F
0.8g
120 seconds
+30 seconds
3