Moistness – Ripe Puerh
Fermented Pu-erh tea (shou cha), 100-year-old tree, super smooth & moist
$3.90 – $64.90
Free shipping on orders over $59!
Fast Air Delivery
15 Days Refund
Secure Payments
Mengku Town, Shuangjiang County, Lincang City, Yunnan Province, China

Yunnan Large Leaf Specy, 100-year-old ancient tree (Gushu)

1,680 meters

Spring, 2018, Prouduced on 6th March, 2020

Glossy, complete, tight.

Nature of plants, sweetness.

Brownish red, glossy

Sweet, smooth, moist.

Fertile, with fragrance

Store in airtight, opaque packaging; in cool, dry place

The longer the better.
Name – Moistness
For fermented Pu-erh tea (shou cha), the control of sweetness and mellowness has been very mature, but the proper moistening is not easy to achieve. 'Mellowness' and 'moistness' are two distinct concepts. 'Moistness' emphasizes the tenderness and smoothness of the liquor. Simply put, 'mellowness' can be perceived by the mouth. However, 'moistness' is a comprehensive feeling extending from mouth, teeth, tongue, throat, chest to stomach.
Origin
Each tea has its own unique taste characteristics, which are derived from two important factors: the raw materials and tea processing. In terms of raw materials, 'moistness' employed a century old tea plantation from Mengku, Shuangjiang, Yunnan Province, with an altitude of 1680 meters. The terrain is superior. The day time with sunshine is long and the annual average temperature is about 18 degrees. The annual precipitation is 1700mm, and the climate is warm and moist. Tea plants are rich in substances, especially theanine, which is very suitable for the 'hardware' conditions required by our "moistness".
Processing

Fermentation process is the core of Shou Cha. The fermentation time is up to 180 days, so that the fermentation can be more thorough and the tea is more mild. This is the basic conditions that 'moistness' can be achieved.
Aging time is 455 days. Why 455 days? 455 days reincarnate a four seasons plus a spring. For Yunnan, there are subtle changes in air humidity and temperature in each season. Four seasons plus one more spring is the best timing to produce 'moistness'. This critical time point is fixed by tea makers through hundreds of tastes and evaluations during the past 10 years. Everything has been done is to seek the best ingenious fit with nature.
Taste
1st and 2nd infusions: the liquor is brownish red. The sweetness is very obvious, and there is a natural aroma of plants and trees.
3rd infusion: the liquor is more transparent and tastes sweet and smooth. Obviously, the moistness makes throat refreshing and conformable.
4th to 6th infusions: sweetness and smoothness are slowly integrated, and the liquor slides all the way from the mouth to the stomach. Meantime warmth and moistness spread to the whole body.
7th to 9th infusions: the whole oral cavity is highly moist. The aroma lingers in the oral cavity. And the saliva on both sides of the tongue is continuous.
10th infusion: the liquor is still soft and sweet. The mellowness and the moistness still exist.
Brewing Method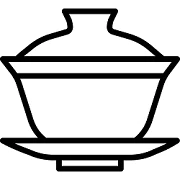 Chinese Gongfu Tea Method
100°C/212°F
6g
5 seconds
+5 seconds
15

Western Cup Method
100°C/212°F
0.9g
120 seconds
+30 seconds
5