Grand Buddha Dragon Well – A beautiful tea with a beautiful story
Super refreshing, with a legend of 1600-year-old Buddha Statue.
$2.90 – $48.90
Free shipping on orders over $59!
Fast Air Delivery
15 Days Refund
Secure Payments
Xincang County, Shaoxing City, Zhejiang Province, China

850 meters

Spring 2022

1 bud 1 leaf or 2 leaves

Plump, flat

Nutty, toasty, full aroma

Green-yellow

Soft, rich, toasty flavor and sweet

Fertile, complete and beautiful

Store in airtight, opaque packaging; in cool, dry place

18 months
Brief
The tea is made from the young buds and leaves of high mountain pollution-free improved tea garden. Its shape is flat and smooth, sharp and straight. Its color is green and moist. Its aroma is tender, with slight orchid fragrance. Its taste is fresh and sweet. The liquor is yellow green and bright, and it has a typical toasty flavor.
Origin
Xinchang is located in the mountainous area of eastern Zhejiang. The terrain drops in a ladder shape from southeast to northwest, forming three geomorphic areas: Tiantai Mountain in the southeast, Kuaiji mountain in the southwest and Siming Mountain in the northeast. Most of the peaks are more than 700 meters above sea level. There are many foggy days in tea gardens on the mountains, and there are often clouds at the top of the mountain, which is very beneficial to tea trees.
Culture
The name of the Grand Buddha Dragon Well (Da Fo Long Jing) is related to the Grand Buddha Temple. The temple was built in the Eastern Jin Dynasty and has a stone Buddha statue with a history of more than 1600 years. It is said that long ago, a woman lived in the village next to the Grand Buddha Temple in Xinchang. One night, she dreamt that she went to the Grand Buddha Temple to worship. Suddenly, she saw the Grand Buddha got up and went outside the hall, and picked some tree buds to drink. It was fragrant. When the woman woke up, she found these tea trees and made them for drinking. As expected, they were fragrant and mellow, so they were called "Grand Buddha tea".
Brewing Method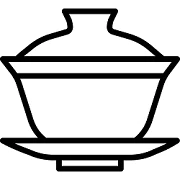 Chinese Gongfu Tea Method
85°C/185°F
3.5g
15 seconds
+5 seconds
6

Western Cup Method
85°C/185°F
0.6g
180 seconds
+60 seconds
2