Xinyang Maojian – One of top 10 famous teas of China
$2.90 – $48.90
Free shipping on orders over $59!
Fast Air Delivery
15 Days Refund
Secure Payments
Xinyang City, Henan Province, China

560 meters

Spring 2022

Thin round, light, straight

High aroma, fresh & tender, roasted aroma

Green-yellow

Fresh and brisk with slight hint of floral, long-lasting sweet aftertaste

Fertile, complete and beautiful

Store in airtight, opaque packaging; in cool, dry place

18 months
Brief
Xinyang Maojian is a green tea and one of the top ten famous teas in China. As a traditional famous tea, Xinyang Maojian is named "Maojian" because of its tight shape, straight leaves, and full of pekoe. It is famous for its high aroma, long sweetness, and yellow-green soup color.
Reward
In 1915, Gold Medal at San Francisco World's Fair
in 1959, it was praised as one of the top ten famous teas in China. 
In 1990, it won the National Quality GoldAward.
In 2007, Won a gold medal at the World Green Tea Conference in Japan.
Origin
Xinyang Maojian is produced in the southwestern mountainous area of Xinyang. Historically, Xinyang Maojian was mainly produced in Luhe District, Pingqiao District and Luoshan County of Xinyang City. But now the production area of ​​Xinyang Maojian has expanded to 8 counties and districts in Xinyang City, becoming one of the largest famous tea production bases in China.
Culture
Xinyang tea area is an ancient tea area in China with a long history of tea production. It is generally believed that it began in the Eastern Zhou Dynasty more than 2,000 years ago. During the Tang Dynasty, Xinyang was already rich in tea, and Xinyang tea had already been famous.
Processing
Step one – raw pot:
Put fresh leaves into the pot, turn over rhythmically with round broom tea made of thin and soft bamboo branches for about 3 to 5 minutes, stir-fry until the strands are obvious.
Step two – deep fry:
Repeatedly grasping and tossing the strips, with free gestures and flexible movements, when the tea strips are tight, round, straight and smooth, it will reach 70% to 80% dry (water content 33-35%).
Step three – baking:
Bake with charcoal in a dark fire, the initial baking temperature is 70-90 ℃, bake until the water content is about 15%, and then bake and spread, and the spreading time is not less than 40 minutes. And re-baking (the re-baking temperature is about 60℃), until the water content is below 6%.
Brewing Method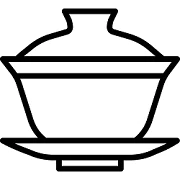 Chinese Gongfu Tea Method
85°C/185°F
3.5g
15 seconds
+5 seconds
6

Western Cup Method
85°C/185°F
0.6g
180 seconds
+60 seconds
2