Tanyang Gongfu Black Tea
Sweet aftertaste with moistness, golden prize winner at the 1915 Panama Pacific International Exposition
$3.50 – $66.90
Free shipping on orders over $59!
Fast Air Delivery
15 Days Refund
Secure Payments
Tanyang Village, Fu'an City, Fujian Province, China

Cai Cha cultivar

1,200 meters

Spring 2022

Full

One bud 1 to 2 leaves

Dark, straight and tight

Floral aroma, with sweet potato note

Bright, orange

Mellow and sweet with aftertaste of moistness.

Store in airtight, opaque packaging; in cool, dry place

36 months
Brief
Tanyang Gongfu black tea is ranking on the top of the three Gongfu black tea in Fujian. It has long been famous in the tea market both at home and abroad. The tea is with tight shape which is fine, uniformed and straight. It has moist leaf color, good clarity. It has lasting aroma, strong taste that is mellow and sweet. The traditional crafting and processing method of this tea also allows it to retain most of its original nutrition.
Origin & History
Located in northwest of Shekou town Fu'an County of East China's Fujian province, Tanyang village is home to the famous Tanyang Gongfu tea, a golden prize winner at the 1915 Panama Pacific International Exposition. The village has been growing black tea since the Qing Dynasty (1644-1911). The tea has also been exported to Western Europe.
According to legend, during the reign of Xianfeng and Tongzhi of the Qing Dynasty (1851-1874 AD), a man called Hu Fushi (also known as Hu Jinsi) in Tanyang village, successfully produced black tea and sold it to Western Europe in Guangzhou. Since then, tea merchants have come to the village one after another and set up foreign shops. Since then Tanyang's reputation spread like wildfire.
Manufacture
This was one of the first regions to make black tea back in the 17th century, and several of the other teas from this small region have gone out of production due to Fujian's need to increase production of oolong and white tea. The locally-derived leaf used for Tan Yang tea, the Cai Cha cultivar, was at first used for a delicious and famous classic Fujian green tea; however, today it is used primarily for this special black tea.
Brewing Method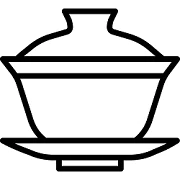 Chinese Gongfu Tea Method
90°C/195°F
4g
5 seconds
+5 seconds
7

Western Cup Method
90°C/195°F
0.6g
180 seconds
+60 seconds
3