Huangshan Maofeng the Premium Quality of Chinese Green Tea
One of top10 famous Chinese tea, from Yellow Mountain
$2.90 – $48.90
Free shipping on orders over $59!
Fast Air Delivery
15 Days Refund
Secure Payments
Sanhe Village, Kecun Town, Yi County, Huangshan City, Anhui Province, China

Huangshan Qunti Cultivar

780 meters

Spring 2022

1 bud 2 leaves

None

Compact two leaves and a bud, feather like

Orchid, vegital and grassy

Golden

Sweet flavor reminiscent of bamboo and chestnuts

Fertile, complete and beautiful

Store in airtight, opaque packaging; in cool, dry place

18 months
Origin
This premium tea comes from the Huangshan (translates to 'Yellow Mountains') – one of China's most famous mountain ranges. This series of rugged and craggy peaks has been depicted in classic Chinese brush paintings for centuries, and historically has provided peaceful refuge for sages, poets, monks, artists and other solitary souls. This landscape provides a rich terroir for this tea. The tea gardens are protected and very lush. One feature that makes this tea so delicious is the daily formation of 'clouds & mist ' that rise up the canyons and swirl throughout the peaks, bathing the tea gardens in nourishing moisture and providing gentle protection from the sun.
Processing
In early spring, the tea grows slowly, one leaf is long and one bud is slightly expanded. Due to the green-baking process adopted by Huangshan Maofeng, the shape is not rolled, or the rolling time is short and the strength is light. After being made into dry tea, the buds and leaves are separated like flowers, which is called "flower shaped tea", and the locals jokingly call it "sparrow's mouth is slightly open". The special craft makes it maintain its natural state from shape to taste to the greatest extent. When it stretches slowly in the cup, the pure aroma and rich taste make it seem to return to the tea garden.
Preciousness
To produce a kilo of Huangsha Maofeng consumes about 60,000 buds. Every year in Huangshan, we can see that more than a dozen tea farmers go up the mountain at 6 a.m. and finally make dry tea at 4 p.m., which is only about 20 kilograms of tea as output.

Cherish this cup of tea.
Brewing Method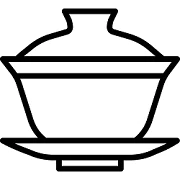 Chinese Gongfu Tea Method
85°C/185°F
3g
20 seconds
+5 seconds
5

Western Cup Method
85°C/185°F
0.5g
180 seconds
+60 seconds
2