Mercy – Tie Guanyin
One of the top ten Famous Teas of China, high fragrance oolong
$2.90 – $48.90
Free shipping on orders over $59!
Fast Air Delivery
15 Days Refund
Secure Payments
Anxi County, Quanzhou City, Fujian Province, China

Tie Guanyin Cultivar

800 meters

Spring, 2022

Semi ball-rolled leaf style with a bit of attached stem

Floral & mineral aroma, high-fragrance

Between yellow and green, bright

Vegetal & lush floral flavor, buttery, lingering aftertaste

Fertile, tender and complete.

Store in airtight, opaque packaging; in cool, dry place

36 months
Brief
Tie Guanyin, also known as Iron Goddess in English, is one of the top ten Famous Teas in China. It is native to Xiping Town, Anxi County, Quanzhou City, Fujian Province and was found in 1723-1735. Tie Guanyin is not only the name of tea, but also the name of tea varieties. It has a unique 'Guanyin rhyme', with a delicate fragrance and elegant taste. After brewing, it has a natural orchid fragrance. The taste is pure and strong, and the aroma is rich and lasting. It has the reputation of 'still tasteful after seven infusions'. It has spread to oolong tea areas such as southern Fujian, Northern Fujian, Guangdong and Taiwan, because of its excellent quality and unique flavor.
Origin
Anxi County, Fujian Province is not only the hometown of Tie Guanyin, but also the birthplace of oolong tea. Moreover it is also the most important base for export of Oolong tea in Fujian Province. Anxi has a long history of tea production,features unique natural conditions and excellent tea quality.
Culture
According to legend, around 1720, there was an old tea farmer Wei Yin (1703-1775) in Songyan village, Anxi County, who was diligent in growing tea, and believed in Buddhism. Every morning and evening, he must worship the goddess with a cup of tea. One night, he fell asleep. He dreamt that he went out of the house with a hoe, guided by the goddess. He came to a stream and suddenly found a tea tree in a crevice. It had strong branches and luxuriant leaves, with attractive fragrance, which was different from the tea tree he had seen. The next morning, he followed the road in his dream last night, and he found the tea tree in his dream. The tea leaves were oval, the mesophyll was plump, and the tender buds were purplish red and green. Wei Yin was very happy and transplanted this tea tree into a small iron tripod at home and cultivated it carefully. Because this tea was obtained by Guanyin's dream, it was named 'Tie Guanyin' (Iron Goddess).
Brewing Method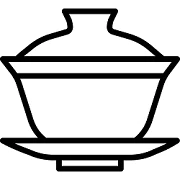 Chinese Gongfu Tea Method
100°C/212°F
6g
5 seconds
+10 seconds
10

Western Cup Method
100°C/212°F
0.8g
120 seconds
+30 seconds
3