Sale!
Melon Seeds – Lu An Gua Pian Green Tea from Yellow Maintain Area One of the top 10 Chinese Famous Tea
One of top 10 famous Chinese teas, used to be tribute tea especially for emperor
$2.90 – $39.90
Free shipping on orders over $59!
Fast Air Delivery
15 Days Refund
Secure Payments
Lu An City, Anhui Province, China

310 meters

21 April 2022

None

whole leaves

Plump, like melon seeds

Vegetal, clean and fresh

Bright lemon-yellow

Sweet, fresh, soft

Green, complete and beautiful

Store in airtight, opaque packaging; in cool, dry place

18 months
Name & Culture
Official name of this tea is Lu An Gua Pian (六安瓜片). Lu An is the place where the tea is from. Gua Pian means Melon Seed which is to describe the shape of the tea, like seeds of many members of the cucumber family, which are quite auspicious in China.
Lu An Gua Pian is one of the top ten famous teas in China. It has a long history and rich cultural connotation.
It was well-known from the Tang Dynasty (618-907) as Lu Zhou Lu An tea. It was considered as a top-grade tea in the Ming Dynasty (1368-1644), and was renamed as Lu An Gua Pian at that time. It became a Tribute Tea exclusively made for and drunk by the emperor in the Qing Dynasty (1616-1911).
Origin
The tea grows and is produced in the Dabie Mountain Area of Lu'an City, Anhui Province. The ecological environment here is very superior, with a large number of plants, animals and mineral resources. The altitude is around 300 meters. The soil has deep soil layer, high fertility and good permeability. It is generally a high-yield tea garden area.
Manufacture
Lu An Gua Pian is a unique tea from other green teas – it is the only tea without bud and stem, which is made of single leaves.
Lu An Gua Pian has a short production season, and the best grades of this tea are completely handmade. Leaves are picked within ten days before and after the Gu Yu (grain rain season). When picking, the pickers take two or three leaves to be strong rather than tender.
The tea does not have grassy or flowery smell and taste due to late harvest date. It tastes strong but not bitter, fragrant but not astringent.
Brewing Method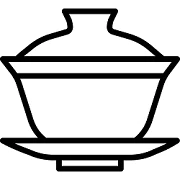 Chinese Gongfu Tea Method
85°C/185°F
3.5g
20 seconds
+5 seconds
5

Western Cup Method
85°C/185°F
0.6g
180 seconds
+60 seconds
2