Sunglow – Belonging to Dianhong Tea Family Mellow and Warm
Dianhong family, large leaf black tea from 200-year-old tree, mellow taste.
$2.90 – $52.90
Free shipping on orders over $59!
Fast Air Delivery
15 Days Refund
Secure Payments
Fengqing County, Lincang City, Yunnan Province, China

Yunnan Large Leaf Species, 200-year-old tree

1,800 meters

April 26, 2021

1 Bud with 1 Leaf

Fat and strong leaves, slightly curly, dark brown and shiny in color

Honey and fruity aroma

Between red, orange and golden; clear and bright

Fresh and mellow, lively and refreshing, with a fragrance on the teeth and cheeks. One sip, the "honey fragrance" unique to Dianhong is transmitted from the tip of the tongue to the stomach, and there is still a hint of floral and fruity scent on the tongue. The sweet and mellow feeling lingers and fills the mouth, lasting for long time.

Store in airtight, opaque packaging; in cool, dry place

36 months
We name this tea as Sunglow, because it transforms a warm feeling like the sunglow, featured by its super mellowness and aroma. It is made of large leaves from 200-year-old ancient tea trees growing in the 1800 meters high mountains. The taste is thick, fresh and mellow, with a fragrance on the teeth and cheeks. The sweet and mellow feeling lingers and fills the mouth, lasting for long time.
History & Culture
Sunglow belongs Dianhong Tea. Since the birth of Dianhong in 1939, some British tea merchants brought it to the tea auction in London, it set a record at that time with the highest price of 1 pound 800 pence.
For a long time, Yunnan Dianhong has become the representative of Chinese black tea with its superior quality and has been presented to the British royal family twice as a national gift. In 1986, Queen Elizabeth II of the United Kingdom visited Yunnan, and the Chinese side at that time presented Dianhong tea as a national gift to the queen. It is said that the Queen put Dianhong in a transparent vessel as an ornamental object and regarded it as a treasure.
In 2015, Prince William, Duke of Cambridge, visited Yunnan. During this period, Dianhong tea was once again presented to Prince William as a national gift.
Origin
The highest elevation in Fengqing is 3,098 meters, and the lowest is 919 meters. The climate is mild. The sunshine is sufficient. The rainfall is concentrated. The wetness and dryness are distinct. In addition, the soil is fertile. The large-leaf tea produced contains high levels of polyphenols and alkaloids, ranking first among Chinese teas.
Manufacture
The materials are from an excellent large-leaf tea plant in Fengqing, Yunnan. Dianhong, belonging to the black tea category, is a fully fermented tea. The process from picking to finished can be roughly divided into withering, rolling, fermentation, and drying. The whole process is done by hand and is very elaborate on the craftsmanship. Only experienced tea masters can dissolve its unique flavor into the tea.
Brewing Method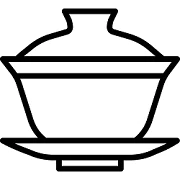 Chinese Gongfu Tea Method
90°C/195°F
4g
5 seconds
+5 seconds
6

Western Cup Method
90°C/195°F
0.6g
180 seconds
+60 seconds
3