Silver Needle (Baihao Yinzhen)
High end white tea made of buds only
$5.80 – $112.90
Free shipping on orders over $59!
Fast Air Delivery
15 Days Refund
Secure Payments
Fuding City, Fujian Province, China

Fuing Da Bai Cultivar

800 meters

Spring, 2022

Spring leaves

Silver bud with fuzz and tender leaves

Yellow

Sweet floral

Store in airtight, opaque packaging; in cool, dry place

The longer the letter.
Brief
Silver Needle or Baihao Yinzhen or usually just Yin Zhen is the high end white tea, originated from Fuding, Fujian Province of China. Amongst white teas, this is the most expensive variety and the most prized, as only top buds (leaf shoots) of the tea plant are used to produce the tea. Genuine Silver Needles are made from cultivars of the Da Bai (Large White) tea tree family. It is distinctive in taste and appearance. These unopened, medium-to-large-sized buds are nicely shaped and have the characteristic silvery hue and a covering of white hairy down.
Our silver needle has a hint of stone fruit florals in the dry buds yields to an intense, classically pure tea aroma in the steeped buds.
Origin
Fuding City is located in the northeast of Fujian Province, on the coast of the East China Sea at the junction of Fujian and Zhejiang. Most of area is 500-800 meters or even more than 1000 meters above sea level.The climate conditions belong to the mid subtropical monsoon climate area, with obvious marine climate characteristics. The soil is suitable for the growth of tea trees.
Processing
Hand-picking
Silver Needle is the tender bud of the white tea. It needs to be picked up before the buds open. Tea planters pick the leaves straight from the tea bush and put them into the baskets in dry sunny days.

Withering (sun drying)
The withering of white tea leaves is a natural process which needs the tea workers to use their real skills. The freshly picked leaves and buds are left in a dormant state for a maximum of 3 days to have them dried thoroughly.

Dehydrating
Drying the Baihao Yinzhen is an essential and challenging step. The process has a strict requirement of temperature and workers' skills. If the temperature fails to be in a specific range, the taste of Baihao Yinzhen will lose its unique taste.
Brewing Method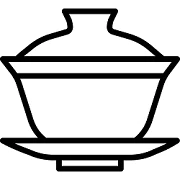 Chinese Gongfu Tea Method
90°C/195°F
4g
5 seconds
+5 seconds
8

Western Cup Method
90°C/195°F
0.6g
120 seconds
+30 seconds
3