Wuyi Narcissus (Shui Xian)
Old saying: "No tea can compete with Shui Xian for mellowness"
$2.90 – $56.90
Free shipping on orders over $59!
Fast Air Delivery
15 Days Refund
Secure Payments
Jianyang County,Nanping City, Fujian Province, China

Semi Tree, Large Leaf, Shui Xian Cultivar

1,100 meters

May 2022

Plump and dark

Rich roasted aroma with floral fragrance

Orange

Mellow and sweet, with aftertaste

Bright yellow with red & green edges

Store in airtight, opaque packaging; in cool, dry place

36 months
Brief
There is a saying: no tea can compete with Rou Gui for aroma, and no tea can compete with Shui Xian for mellowness. Affected by the unique natural environment, Wuyi Narcissus (Shui Xian) has a great taste with featured mellowness.
Known as a premium quality Wuyi Rock Tea, Wuyi Narcissus (Shui Xian) has very good reputation since 200 years ago. It has a glorious history. As early as the reign of Emperor Guangxu(1875-1908)of the Qing Dynasty, the production and sales volume reached more than 500 tons per year. The tea was sold to Fujian, Guangdong, Hong Kong, Macao, South Asia islands, Singapore, British Borneo and San Francisco of the US.
Origin
It is believed that the Narcissus variety originated from Taoxiandong in Jianyang, which is located in the south foot of Wuyi Mountain and the north of Fujian Province. Jianyang has a mid subtropical monsoon climate with abundant light and heat resources. It has short winter and long summer. The pleasant climate and superior environment are the good base for tea farming. According the records, Jianyang is the birthplace of Shui Xian tea trees.
Tea Tree
The tree belongs to clonal, large leaf and late-growing species, and its leaf is more than twice as large as that of ordinary small leaf species. It is a kind of large leaf semi tree.
Brewing Method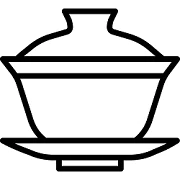 Chinese Gongfu Tea Method
100°C/212°F
6g
5 seconds
+5 seconds
10

Western Cup Method
100°C/212°F
0.8g
120 seconds
+30 seconds
3