Moonlight White Tea
$1.90 – $32.90
Free shipping on orders over $59!
Fast Air Delivery
15 Days Refund
Secure Payments
Pu'er Yunnan Province, China

About 1300 meters

Spring 2022

Bent the top half of the leaf is white, the other part is dark

Floral

Yellow later turns red then turns yellow again

Long lasting floral flavor

Store in airtight, opaque packaging; in cool, dry place

Long term
Brief
Moonlight is a kind of white tea. It's slightly fermented and processed with least human involvement. So it keeps nature very well and is able to be stored for years. It is sweet with light floral aroma. 
Origin
It is produced in some regions in Yunnan province, but proper Moonlight is considered to be limited and only produced in Simao. The leaf looks like a sickle moon, and its unique processing method requires that the tea-making processing can be only taken place in the moonlight, that's how it is named. 
Culture and history
Moonlight has a long history among ethnic groups in Southwest China. These crude teas were of various origins and were meant to be low cost. It is still the major beverage for the ethnic groups in the southwestern borders. In the ancient time, Moonlight was selected by the people living in Yunnan to pay tribute to the royal family.
Legend
Once upon a time, there was a kind, hard-working and brave princess Nanfa Lai, who was the embodiment of the beauty and wisdom of the Thai people. For the sake of peace and friendship between the Blang tribe and the Thai tribe, she left the palace, and went up the mountain to marry the Blang people and taught them to dig terraces to grow rice and tea, so that the Blang people entered a civilized society. The later tea culture was first created by the Brown people. Nanfa Lai was honored as "tea mother" by Blang people.
Moonlight White Tea is praised as holy and noble as Princess Nanfa Lai, and is said to be the incarnation of her. 
Brewing Method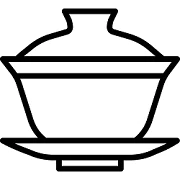 Chinese Gongfu Tea Method
90°C/195°F
5g
5 seconds
+5 seconds
8

Western Cup Method
90°C/195°F
0.8g
120 seconds
+30 seconds
3