Oriental Beauty – Baihao Oolong
Organic high mountain oolong, with potent fragrance
$3.90 – $72.90
Free shipping on orders over $59!
Fast Air Delivery
15 Days Refund
Secure Payments
Mengku Town, Shuangjiang County, Lincang City, Yunnan Province, China

Qing Xin Ruan Zhi Oolong Species from Taiwan

2,680 meters

60%

Spring, 2021

1 bud 2 or 3 leaves

Buds and leaves in different colors

Flowery & fruity

Bright amber color

Flower, honey, fruit

Fertile, thick, strong, brown color.

Store in airtight, opaque packaging; in cool, dry place

36 months
Features
Also named Baihao Oolong or Eastern Beauty, Oriental Beauty is a famous tea with legendary background. It is said that the British tea merchants gave this tea to Queen Victoria as a gift. The Queen was surprised by its mellowness and fragrance and full of praise about it. So she named it "Oriental Beauty".
The most special thing about Oriental Beauty is that the tea leaves must be bitten by the little cicada , and the saliva of insects and tea enzymes mix to produce a special aroma. It is also the source of the mellow fruit aroma and honey flavor of Oriental Beauty. So in order to make the little cicada grow well, pesticides cannot be used at all in the plant. Thus It is more precious and quite expensive.
Our oriental beauty is Taiwanese High Mountain Oolong variety (Soft Swig) transplanted in Yunnan. The degree of oxidation is higher than ordinary oolongs around 60%.
Material & process
Our Oriental Beauty is made of the tea leaves that were transplanted from Taiwan's high mountain oolong species in Yunnan. The manufacturing process also adapts the same way of Taiwan. In terms of style, the tea is light and sweet, which is very different from oolongs in Northern Fujian. Taiwan tea's flavor changes due to the influence of Japanese tea. Therefore, although this tea is produced in Yunnan, the actual flavor is more biased towards Taiwan Oolong.
Tea Garden – Organic Certified
When I drove into the tea garden at the first time, I was completed shocked by its amazing view.
The tea garden is located in Shuangjiang County, Lincang City, Yunnan, China. This area's yearly average temperature is 17.5 °C. Sunshine is sufficient. The climate is quite proper for tea growth. Besides, this area is covered by virgin forest and far away from human pollution. The nature and climate make the tea in premium quality.
The tea garden is organic certified by 4 national standards: China, US, EU and Japan. When I was there, I saw the tea farmers giving organic fertilizer to the tea plants. They showed me that the organic fertilizer is imported from Malaysia.
Brewing Method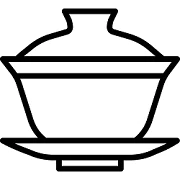 Chinese Gongfu Tea Method
90°C/195°F
5g
5 seconds
+5 seconds
8

Western Cup Method
90°C/195°F
0.8g
120 seconds
+30 seconds
3