Mengding Huangya
Tribute Tea since 1000 years ago, bud shape, rare & precious
$4.90 – $92.90
Free shipping on orders over $59!
Fast Air Delivery
15 Days Refund
Secure Payments
Mingshan County, Ya'an City, Sichuan Province, China

1,000 meters

Spring, 2022

1 Bud with 1 Leaf

Bud shape, slightly yellow, flat and beautiful

Flowery and fruity aroma

Clear, yellow to green

Fresh, mellow and sweet

Store in airtight, opaque packaging; in cool, dry place

36 months
Brief
Mengding Huangya (yellow bud) is one of the bud shaped yellow tea, which is produced in Mengding Mountain, Ya'an City, Sichuan Province. The dry leaf is flat and beautiful. The buds are even, and the color is light yellow. The flower aroma is fascinating, and the taste is fresh, mellow and sweet.
Mengding Mountain is a famous tea producing area with many varieties since ancient time. Mengding Huangya was an tribute tea during the Tang Dynasty and was recorded in many famous Chinese ancient books. This tea is one of the top 10 Famous Teas in China. For this tea only one bud and one leaf are plucked thus it is very precious and quite expensive.
Origin
The tea is produced in Mengshan County, Ya'an City, Sichuan Province. Geographically It crosses the famous mountains, high in the north and low in the south. Sichuan has many famous mountains and resorts. The climate in Mengshan is mild, the annual average temperature is 14-15 ℃, the annual average precipitation is about 2000 mm, there are many cloudy and rainy days. The foggy days in a year are as many as 280-300 days. Mengshan is characterized by lots of rain, fog and clouds , which are the most important conditions for producing good tea.
History
Mengding Huangya (yellow bud) cultivation began in the Western Han Dynasty and has a history of 2000 years. It was a tribute for emperors in ancient times. Mengshan has a long history of tea production, which has been recorded. Mengding Mountain is the earliest place in Chinese history where there are written records of human cultivation of tea.
Wu Lizhen, the earliest recorded tea grower, was recognized as the 'ancestor of tea planting' by the tea industry in China. Wu Lizhen was a Taoist in the Western Han Dynasty. During the Ganlu period of the Western Han Dynasty (53-50 BC), Wu found wild tea trees on the Mengding Mountain and planted them on the Qingfeng peak of the mountain.
Brewing Method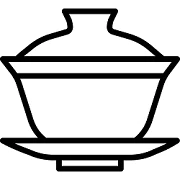 Chinese Gongfu Tea Method
85°C/185°F
3.5g
15 seconds
+5 seconds
6

Western Cup Method
85°C/185°F
0.6g
180 seconds
+60 seconds
2