Puerh Tea Orange (Xiao Qing Gan) a perfect combination for a mellow and refreshing teatime
$2.90 – $56.90
Free shipping on orders over $59!
Fast Air Delivery
15 Days Refund
Secure Payments
Yiwu Yunnan (tea) and Xinhui Guangdong (orange peel)

Yunnan Large Leaf Specy, 100-year-old ancient tree (Gushu)

1,780 meters

tea from 2012, peel from 2015

Glossy, complete, tight

Earthy, and orange

Brownish red, glossy

Sweet, refreshing, long lasting

Store in airtight, opaque packaging; in cool, dry place

The longer the better.
Puerh Tea Orange is a combination of ripe Puerh tea (shou pu) and orange peel. Normally both the tea and the peel selected are aged. In our selection, the tea is from 2012 and the peel is from 2015. 
Like all the Ripe Puerh Tea, this tea is fully fermented and processed with aging. 
Brewing Method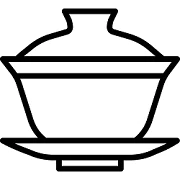 Chinese Gongfu Tea Method
100°C/212°F
5 seconds
+5 seconds
15

Western Cup Method
100°C/212°F
120 seconds
+30 seconds
5