Wild fragrance – Raw Puerh From a Wild Environment Bring You to the Nature with Unique Aroma
It's wild, stubborn, strong, innocent, and has a unique beauty
$2.90 – $48.90
Free shipping on orders over $59!
Fast Air Delivery
15 Days Refund
Secure Payments
Lincang, Yunnan Province, China

Yunnan Large Leaf Specy, 500-year-old ancient tree (Gushu)

1900 meters

Spring 2019

Large, elongated, glossy

Floral, honey

Golden, bright

Fragrance of wild, with floral scent

Fertile, with fragrance

Store in airtight, opaque packaging; in cool, dry place

The longer the better
Brief
Wild Fragrance (Yefang/野芳) is yet another well-known Puerh tea in Yunnan. It inhabits the ancient and mysterious mountains. The tempering of the years and the baptism of wind cream make it a beautiful and harmonious natural scenery. It is stubborn, strong, innocent, wild, with a unique style of beauty. 
It is harvested from ancient tea trees over 500 years old.
Appearance: plump and black, with tight knots and texture
Fragrance: wild smell strong enough, with floral fragrance
Liquor color: Golden and clear, with a strong sense of aperture
Taste: very floral, various layers
Origin
Yefang is a wild-type ancient tea tree that grows scattered in Lincang (belonging to Yunnan Province) alpine forest. The average altitude is above 1900 meters. There are more than 200 rare ancient trees scattered here, with an average age of more than 300 years. Juyuan, all of them are more ancient, tall and straight, luxuriant, unrestrained, showing the original natural environment.
There are very few human footprints here. Tea trees are never pruned, weeded, or managed without any management. They are nurtured by nature, with abundant herbs, ten thousand kinds of intergrowth, birds, beasts and insects, rain, wind and clear sky, pure enough and quiet enough for tea buds to feel the warmth of the sun.
Yefang Ancient Tea Forest has been regionally protected. Fortunately, we can still drink the tea produced here.
Brewing Method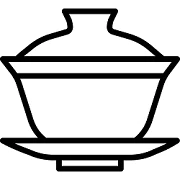 Chinese Gongfu Tea Method
100°C/212°F
6g
5 seconds
+5 seconds
15

Western Cup Method
100°C/212°F
0.9g
120 seconds
+30 seconds
5