Wuyi Rou Gui (Cinnamon)
Old saying: "No tea can complete with Rou Gui for aroma".
$2.90 – $56.90
Free shipping on orders over $59!
Fast Air Delivery
15 Days Refund
Secure Payments
Wuyi Mountain, Fujian Province, China

C. sinensis cv. Rougui

1,100 meters

May 2022

Plump and dark, tight and curly

Cinnamon aroma

Orange to brown

Mellow and fresh, with aftertaste of sweet

Bright yellow

Store in airtight, opaque packaging; in cool, dry place

36 months
Rou Gui is one of the most famous varieties of Wuyi rock tea. It has become well known in the Qing Dynasty and beloved by people for its pungent and lasting aroma. It has obvious cinnamon aroma, and the aroma remains after a few infusions. It is mellow and fresh.
Wuyi Rou Gui sprouts in mid April and picked in early May. Generally, Spring is the only harvest season. It is necessary to pick tea on a sunny day. When the new shoots grow into the middle open face of the top leaves of the buds, pick two or three leaves, commonly known as "open face picking".
Brewing Method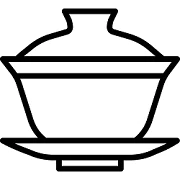 Chinese Gongfu Tea Method
100°C/212°F
6g
5 seconds
+5 seconds
10

Western Cup Method
100°C/212°F
0.8g
120 seconds
+30 seconds
3