Zhangping Narcissus (Shui Xian)
$3.90 – $68.90
Free shipping on orders over $59!
Fast Air Delivery
15 Days Refund
Secure Payments
Zhangping, Fujian Province, China

About 200 meters

The whole year

Upright, plump, oily

Elegant, natural flower aroma

Orange-yellow

Mellow, refreshing

Store in airtight, opaque packaging; in cool, dry place

36 months
Brief
Zhangping Narcissus is one of the most famous traditional Chinese teas, which is mainly grown in Zhangping Fujian. As a Chinese geographical indication product, it has been sold in both domestic market and also to foreign markets. It is often said that lovely, rich fragrant smell of Zhangping Narcissus enveloped you while you're drinking it.
Origin
Historically speaking, this tea originated in Yuan Dynasty and has a planting history of more than 700 years. Zhangping Narcissus is primarily grown in Zhangping City which is located in southern Fujian, with a subtropical monsoon climate characterized by quantities of rain all year. Zhangping Narcissus grow best in this kind of hospitable place.
Culture
Legend has it that during the Kangxi Emperor's period of the Qing Dynasty, a Fujianese discovered a large tea tree next to a temple had several distorted branches due to being squeezed by the wall of the temple. The man thought the trunk was interesting, so he dug it out and took it home to plant and cleverly used the deformation of the tree and reversed it. As a result, he cultivated a good tea with a nice fragrance. That was Zhangping Narcissus
Health benefits
Like all kinds of tea, it can refresh one's mind due to its caffeine content. Also drinking it moistens our throat, even if we drink too much of it, it doesn't cause any impairment of the stomach. It helps your bowel movement as well.
Processing:
The general process: drying – making green (shaking and drying alternately) – fixing green – kneading and shaping – baking.

Heavier drying is the main feature of Zhangping narcissus tea production. The greening method combines the technical characteristics of northern Fujian oolong tea and southern Fujian oolong tea; shaking green follows the principle of light shaking; drying green follows the principle of thin spread and multiple drying. After frying and kneading, it is a unique process to use wooden molds to press and shape and filter paper to shape.

Zhangping Narcissus with unique shape, excellent quality and rare style is the only pressed tea in the category of oolong tea.
Brewing Method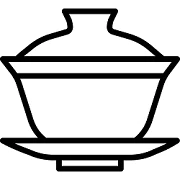 Chinese Gongfu Tea Method
100°C/212°F
6g
5 seconds
+5 seconds
10

Western Cup Method
100°C/212°F
0.8g
120 seconds
+30 seconds
3